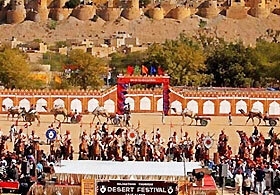 The Jaisalmer Desert Festival is an annual event that take place in February month in the beautiful city Jaisalmer also called Golden City. It is held three days prior to the full moon. The festival is celebrated amidst the beautiful dunes of the Thar Desert in the Sam dunes (42 kilometers from Jaisalmer). This festival also known as sam festival. 
The Jaisalmer Desert Festival Presenting the best of local culture and traditions; this desert fair attracts visitors from all over the world. With spectacular desert and dunes in the backdrop; Jaisalmer Desert Festival is organized annually and features marvelous performances of folk music, dance, magic shows, acrobats, puppet shows and martial arts. Its the most popular and colorful cultural events of Rajasthan, which is visited by quite a number of tourists.
Other highlights of Desert Festival 2022
include Turban tying Competition, Ghoomar Dance Performances, Moustache Competition, the Mr. and Miss Desert Contest, Panihari Matka Race, Camel Decoration, Shaan–e–Marudhara, Camel Tattoo Show and Camel Polo Match. Desert safari on camels and jeep in the Thar Desert will also be organized during the Festival.
Some celebrities also come here to perform, this time(2022) Legend Singer Mohit chauhan and Javed Ali came here to perform are some clips sharing with:
https://www.instagram.com/reel/CaB5fiFFbad/?utm_medium=copy_link