I want to share my wonderful experience with you visiting Isha Center or Sadhguru Ashram which is situated between the foothills of beautiful Velliangiri Mountains, around 30 Kms from Coimbatore city, Tamilnadu.
We (me and my family) stayed there for 1 day only but really wanted to stay there more.. at least 15 or 20 days. Near reception there is 'Sarp Vasal' entrance looks beautiful.
Once the payment is done you are given a wrist band that has necessary details of your visit and also helps security & volunteers identify your visitor type. The band is removed only when you leave the premises on check out. We booked a room and got a band written Allayam on it which means we got the room in Allayam block. we dumped all the luggage and then our journey started.
Teerthakund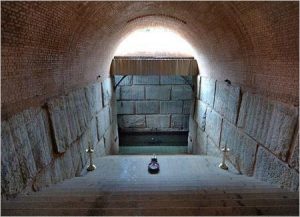 We went first to TeerthaKunda before entering Dhyanlinga. Gents kunda named as SuryaKunda and for ladies named as Chandra Kunda.
So we went to Chandra kunda, there we have to take bath first with the gowns which they gave us and then silently entered the Chandra Kunda. Water was very chilled and in between there is big Shivling on the fact that the water is energized by the submerged Rasalinga, a linga made of solidified mercury, weighing over 660kgs. A dip in this vibrant water significantly increases spiritual receptivity and also rejuvenates the body. Ancient and powerful temples built according to the science of temple building invariably held a sacred water body, where the visitors had a dip before entering the main temple. This was not only for physical cleansing and freshening, but also to activate and sensitize the energy body of the visitors, to prepare them to fully receive the energies and the grace.
Nada Aradhana at Dhyanalinga
After rejuvenated, we went Dhyanlingam . Dhyana, in Sanskrit, essentially means meditation, and linga means, form. The yogic science of making a linga is based on this knowledge. In the Dhyanalinga, the energies of all the seven chakras in the human system are raised to their very peak, and locked to prevent dissipation over time, through an intense process of prana pratishtha. The physical form of the Dhyanalinga – the black granite stone – is just scaffolding for this energy.
The bell rang signaling our entry inside the Dhyanalinga dome. The serenity of the place is unbeatable. The Dhyanalinga looms large and leaves you awestruck. I made the lotus offering and sat down, remembering to look at the linga for a few minutes and then closing the eyes to meditate for 10 mins atleast.
Linga Bhairavi or Devi,
After come out from Dhyanlingam, we went to Bhairavi Devi Temple. It's said that those who earn the Grace of Bhairavi neither have to live in concern or fear of life or death, of poverty, or of failure.
We sat there for 2 mins in front of Bhairavi maa. Her aura or some energy which I felt cannot describe in words, "mano ki muh me ras sa ghulne laga" it was different kind of feeling which cannot be expressed.
After then we took break in a canteen, had coffee/tea and some snacks. In front of canteen there is Official Isha shop offering Sadhguru's books, yoga clothes, body care, copper vessels, ayurvedic health foods, rudraksha & much more. Also purchased online at https://www.ishalife.com/in/
visit to Adiyogi.
In evening, we went to visit Adiyogi (Largest Bust Sculpture in the world). We spend good time there –bullock ride, taking pics, dancing and more..
At 7pm, time of Adiyogi Divya Darshanam is 3D laser show, narrating story of Adiyogi and how the science of yoga was given to human beings. It was inaugurated by President Ram Nath Kovind on Mahashivratri in 2019. It is a 14 minute light and sound show, projected upon the Adiyogi Statue. Ultimate 3D laser show ever seen.
Bhiksha / Annadanam Hall
It was time for dinner so we headed to the Bhiksha Hall where meals are served. The seating line for men and women is separate. You are to maintain silence in the dining hall so I landed communicating with signs. There is a regime that is followed which has its roots in Ayurveda. I will suggest you take a small portion of the food items, repeat it with a second helping and avoid food wastage. Once you are through your meal you are to wash the utensils used by you in the designated area.
Those who wish to be a part of it are suggested to do the registration much earlier.
sharing small clip
https://www.instagram.com/reel/CepsGs2FBdK/?igshid=YmMyMTA2M2Y=